Rock Caste is an open-air music festival focusing on quality international rock and metal music. The great line-up full of the biggest names on the field together with the unique spirit of the area of Moravský Krumlov create one of the biggest event of the genre in South Moravia. Thanks to perfect location of the castle park, nearby meadows and the beautiful surroundings of Moravský Krumlov city.
Festival location
venue: Zámecká zahrada, Zámecká 1, 67201 Moravský Krumlov [49.048817, 16.306552]
GUIDELINES FOR FESTIVAL VISITORS
No money refund is possible once the ticket is paid, it is not possible to exchange the ticket on site. Three-day passes and one-day tickets are available.
The only method of payment in the festival area and in the V.I.P Camp will be the cashless system via a festival bracelet with a chip. By using the cashless chip on your bracelet, you agree to the General Terms and Conditions listed at www.rockcastle.cz Top up credit on your chips. Refund of unused credit is possible after the end of the festival. The condition of the refund is the registration of the chip. The exception is the sale of tickets at the ticket office, which will be paid in cash only.
Organizers take no responsibility for any health / personal belongings damages caused during the festival.
Children older than 3 need their own ticket.
Children under 12 years of age are allowed into the area only when accompanied by an adult.
It is strictly forbidden to bring drinks, plastic bottles, glass bottles, cans, own drinks (even in a returnable cups), own drinks (even in a returnable cups) as well as any weapons, knives, scissors, flag poles, umbrelas and other things classified by staff as dangerous! The organizer reserves the right to personal security check in a manner permissible by law - at any time! A person refusing to consent to such check will be refused entry or escorted out.
It is strictly forbidden to bring tape recorders or video cameras to the area! Violation of this rule could be classified as a crime!
Taking photos is allowed only on compact cameras without additional lenses. Only accredited photographers and journalists are allowed to bring professional cameras onto the premises!
Organizer and artists reserve the right to film, video and TV recording of concert shows and festival atmosphere. Visitor recorded for the document may also be published without further notice with no financial compensation.
Ticket forgery is illegal and punished according to the law!
Ticket = wristband. With it, you can leave and re-enter the festival area at any anytime. Once you take it off or lose it, you will not be able to re-enter the festival site! All persons without a wristband on hand will be immediately taken out!
The beer is tapped into reusable cups with eyelet for attachment. Cups are exchanged within the purchase of another beer or could be returned at two buyout marked points. Note - in addition to cups with brewery logo there is also limited edition of Metalfest promotional cups. Those are souvenirs and are not intended for a buy-out. Before you purchase your beer, please decide from which cup you want to enjoy it. Promotional cups will be also available in the festival shop. But for hygiene reasons you don't receive beer into this cups which you bought in the festival shop.
No dogs or other animals are allowed in the festival area!
Visitors must respect the instructions of the organizers and security services!
Distribution and placement of any promotional and advertising materials without written permission of the organizer is prohibited!
The organiser reserves the right to give instructions to the festival participants in order to maintain the safety and smooth running of the festival, to change the conditions stated with immediate effect if necessary, to change the programme and its content, including the performers, in the event of unforeseen events such as weather conditions, accidents, health conditions of the performers, etc.
The Organiser may order the evacuation of the venue (area) in case of suspected danger to the health of the participants or the Organiser's property, such as natural disaster, terrorist attack, without any compensation for damage or loss of profit to the participant
Strict ban on entering the stage and backstage areas.
Use the sanitary facilities and equipment only provided for this purpose.
Throwing cups with liquid content between visitors or on the stage will be considered a serious violation of festival rules and a person caught in such an act will be expelled from the festival without the possibility of return, as in other offenses against the festival rules.
Parking is possible in reserved places and adjacent roads while respecting traffic signs and regulations. Carefully study the map with reserved parking lots on the website www.rockcastle.cz Cars parked in prohibited areas and in areas that are not intended for this will be towed away by a towing service and their owners will be fined.
By entering the event, the visitor declares that he/she meets the conditions of the current government hygiene and anti-epidemic measures. Please follow czech covid portal. (https://covid.gov.cz/situace/kultura/festivaly)
V přípravě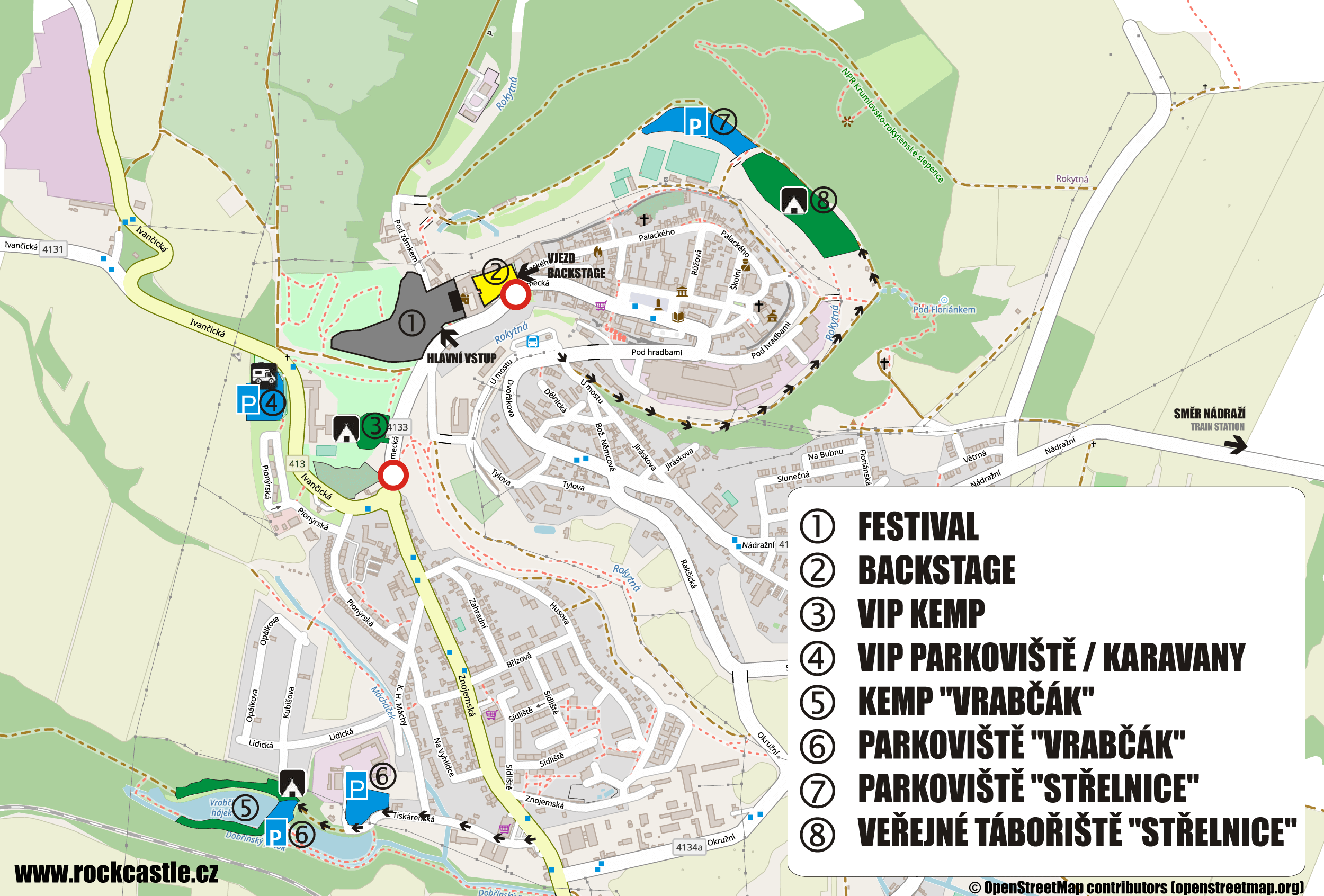 Download PDF map
Camps
V.I.P camp (n. 3)
security service
showers/WC (free)
parking sold separately
 
Camp Vrabčák (n. 5)
security service
showers/WC (free)
parking sold separately
 
Campground Střelnice (n. 8)
free
no reservation
no security
parking sold separately
Parking
Parking for caravan
stadium near the school (n. 4)
near campground Střelnice (n. 7)
Parking for car
parking near V.I.P camp (only with V.I.P camp ticket, n. 3)
parking near Vrabčák camp (poonly with Vrabčák camp ticket, n. 5)
parking near Střelnice (for all, n. 7)
The city of Moravský Krumluv
MThe city of Moravský Krumlov is located in a beautiful area of the South Moravian region near moravian capital Brno on the Rokytná river. The local dominant is a renaissance chateau from the 13th century and its park. At the end of August this place turns into the international rock and metal festival Rock Castle.
We are working on discounts for various events within the city of Moravský Krumlov for our festival visitors.
City website: mkrumlov.cz
Cashless
Enjoy Rock Castle a lot more because all you need is a wristband with a chip and prepaid credit! Want to buy a t-shirt, grab a bite to eat or just a shower? Just use the chip that comes with the wristband at any point of sale. How to do it?
Choose from two options
I want to be ready - no queuing and waiting
Top up your credit online in advance via NFCtron Pass and get a free wristband with a chip.
You'll get your chip bracelet at the event after presenting the QR code confirming topping up your credit, which can be found on the NFCtron Pass.
You can see your current balance at the event in the NFCton Pass app where you can find all your receipts.
Pro tip:
Pick up your chip wristband at the venue up to two days before the event starts to avoid queues.
Plenty of time - I'll sort everything out there
You will get a wristband with a chip upon entering the festival. You will top up your credit (cash or card) for a 30 CZK fee on the first top-up.
You will get an information leaflet with a link and QR code. Save it carefully to check your balance and get any remaining credit back.
Pro tip:
Scan the QR code from the leaflet and track your balance in your online receipt.
Ran out of credit?
You can top up your credit at any time during the festival at the top-up points by cash or a card.
Got some credit left?
Transfer the credit back to your CZK or EUR account. The money will be refunded to your bank account within 14 days of the end of the event.
Missing something?
Reach out to NFCtron support with any questions.